From the Lion Brand Yarn Company crafts and lifestyle blog '11-'12, the Lion Brand Notebook:
February 16th, 2012 by Margaret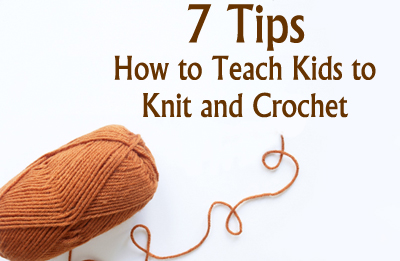 Teaching children to knit or crochet can be daunting, but these 7 tips are designed make it easy and fun for everyone involved.
Remember the first project you ever made? Teaching a child to knit or crochet is your chance to help them have that special feeling of accomplishment. When children learn to love fiber arts as children, they are much more likely to keep knitting and crocheting for the rest of their lives.
When you teach a child to make something out of yarn, you're teaching them more about the joy of crafting than about how to perform a stitch. The easiest way to teach them to knit or crochet is to show them how to love working with yarn. Then they'll want to learn more and perfect their skills if they enjoy the process. Stay positive and make the lesson about how fun and creative crafting is.
Set the scene: clear space, plenty of supplies and lots of light. Many teachers seat everyone at a table, because then the teacher can see what everyone is doing quickly and easily. Try to have a group of 5 or fewer students per adult if the children are very young so that they can all get the attention they need.
Start with simple, solid-color yarn & large, durable tools.Vanna's Choice is a popular yarn for lessons, since it has great stitch definition and comes in a wide array of colors. You could even teach kids to knit on their fingers or try the crochet 'finger hook' method where you use a curled finger instead of a hook.
Teaching a craft is also teaching a language; explain what each word means as you use it. Teach as though none of your students have ever heard the word "yarn" before. This may feel silly, but it's very hard for a child to ask for clarification, especially when they are new to crafting. Listen to them carefully; they may be asking simple questions using unconventional words.
Teach them to start, rip back, and start over again. It's easy for a beginner to forget how they started by the time they finish. Encourage your students to make their first row, rip it all out, and then make it again. If you give them just a few yards to start with they will have to stop and rip back if they want to keep practicing.
Let kids be creative with what they have learned. Make small balls in different colors before hand and once your students have mastered basic stitches let them choose the color they'd like to work with. If they are making their first swatches, you can let them choose how many stitches to cast on or chain (just remind them it should be a number larger than 4; narrower projects are difficult for small fingers).
Show them that you are proud of their work, and they will be proud of it too. When you teach kids, they will look up to you as the person who knows what good projects look like. There are many ways to show them that you're proud of them; get creative! You could take a picture of each child with their first stitches, swatches and projects and make an album for the class, or you could have a fashion show of their new and very simple projects at the end of your class. Even a chain or a row or two of knitting can be a project; try turning them into necklaces, hair ties, bracelets or even shoelaces.
Many teachers have their own special tips for teaching children to craft with yarn. Share your secrets for helping kids get started in the comments section below!
Related links: